Saturday, March 21, 2015
450 Post St.~Union Square
Noon-1:30: VIP Winemakers Panel
1:00: Cabernet Shootout Challenge blind tasting begins
1:30 Walk around tasting with nibbles begins
3:30 Awards ceremony and raffle drawing/wine sales
A cash wine bar will remain open after the awards presentation for those who want to linger.
PIT YOUR PALATE AGAINST THE WINE PROS
Each year Cabernet fans in the Bay Area have a special opportunity to indulge their passion! Moved to the end of March in an historic and convenient Union Square setting, you can enjoy this unique experience without the crowd crush of the mega tastings or driving long distances for Passport weekends
Over a number of weeks, Affairs of the Vine convenes a select panel of 40 winemakers, writers, retailers, educators, consultants, and connoisseurs to judge the Cabernet Shootout among artisan Cabernet Sauvignons, Cabernet Francs and Cabernet blends from a variety of viticultural areas including places like Chile. Without regard to price, vintage or region, this group of experts moves 64 wines to the final round rating and ranking 32 "best of the best." on February 21st. These finalists are then tasted blind and evaluated by wine consumers at the March 21st event.
tThe afternoon begins with a VIP panel of winemakers who will present the nature and nurture of crafting their top Cab which will be poured, with time for questions and observations from the audience. Moderated by wine guru Wilfred Wong of wine.com, the group will explore:
~HOW PLACE AFFECTS TASTE: How much does terroir play a role in the crafting of Cabernet versus winemaking techniques. The panels will concentrate on how site influences a winemaker moving from vineyard to fermentation, touching on appellation and specific geographical location, clone preference, vine management, pick date effected by weather, influence of marketing, and the like. ~THE WINEMAKERS SIGNATURE: the stylistic choices in the winemaking process--the winemaker's personal decisions, focusing on such specifics as yeasts, whether to go with whole cluster fermentation temperature and tanks, alcohol content, punch downs vs. pump-overs, barrel age, skin contact time, bottling date and related topics.
After the optional VIP workshop, the finalists can be evaluated in a blind tasting.Each Cab enthusiast can choose their favorites in one of two flights of 16 Cab Sauvs or Cab Francs previously evaluated by the wine industry pros.
In this variation of a Pro/Am tournament, the results of the professionals' Cab Shootout will then be compared to the tally of the 'amateurs' Cab Challenge, both tabulated separately by gender.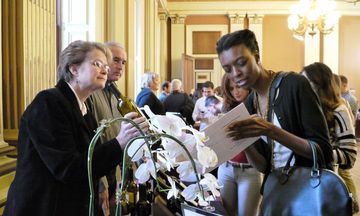 This distinctly different format provides a special opportunity to compare your favorites in this mini competition to those of the 'tastemakers'. It also allows attendees to sample and rate very limited production rising star wines.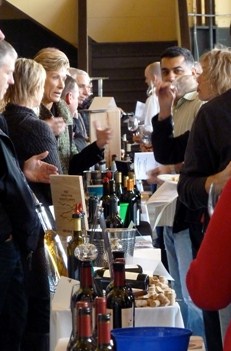 During the afternoon, attendees will also be able to mingle and meet with a number of the vintners from the finalist wineries in an open walk around tasting accompanied by various nibbles.
Sample wines from a mix of boutique producers from appellations located throughout the West Coast including varietals other than Cabernets including white wines. Many of the participating wineries will be selling their wines for take away.
We will also be raffling off bottles of killer Cabs to raise funds for Big Brothers/Big Sisters of the Bay Area.sAnd since we are expecting 20+ wineries to pour in the walk around tasting, and a limit of no more than 300 tickets to be sold, the odds are quite good that you can walk away with a superb bottle of vino.
TRANSIT & PARKING: Three blocks away from BART and Muni Metro, and near numerous garages.
PRICING
Can use a credit card or bank account to make purchase



~Special discounted tickets while they last: $39 (includes processing fee)




Two for the regular price of one: $69 + $3.25 processing fee
~

Special discounted VIP Winemakers Roundtable tickets while they last:

$49 (includes processing fee)
Two for the regular price of one: $89 +
$3.50 processing fee
Our first flight of new releases crafted by San Francisco based wineries from both Treasure Island and SOMA was held at the Pickwick Hotel @ 5th and Mission. We sampled 14 new releases from four San Francisco based wineries We had vintners or reps present to pour and discuss the wines. Plenty of nibbles including charcuteries from Fabrique Delices and tri tip from the Vineburg Deli.

We also auctioned off a few bottles of gold medal winners from the Pinot Noir Showdown to raise funds for One Brick. and conducted our usual taste-off to pick our favorites (we will simplify the scoring by relying on the selection system used at the CabChallenge in Jan.). Wines being poured were available for sale through our eCommerce Third Party Provider program.
Here are most delicious wines based on the average of 14 individual voters among the attendees who participated in the taste-off:
Favorite Wine Under $30 ~ HEARTFELT WINES 2010 Petite Sirah Alexander Valley (winery price: $28/wine.coop price: $23)
Winemaker's statement: "This deep, dark, powerful red delivers expressions of plums and black cherries, with undertones of coconut, vanilla, and spices. Broad and balanced on the palate, this wine firms up nicely on the finish, where the tannins provide grip."
Favorite Wine Over $30 A.P. VIN 2012 Pinot Noir Rosella's Vineyard Santa Lucia Highlands $50
Other high scorers
HEARTFELT WINES 2010 Inspiration Red Coombsville Napa Valley $62
A.P. VIN 2012 Pinot Noir Kanzler Vineyard Sonoma Coast $50
VIE 2010 Syrah, Las Madres Vineyard Los Carneros $39
Favorite White White tie
HEARTFELT WINES 2012 Chardonnay Russian River Valley
VIE 2011 Roussanne Lake County $16
Best Bang for the Buck
WINERY SF 2010 People's Blend North Coast $16
VIE 2011 Roussanne Lake County $16
We moved the program back a week so we were not holding this program to coincide with "Third Thursdays in Yerba Buena," a monthly night of art, performance, food and drink in the Yerba Buena neighborhood, San Francisco's arts and culture district in downtown San Francisco. We did, however, do this for our April program at the Museum of Performance + Design.



Holiday Wine Tasting Pop-up & Tour of Museum Exhibits
December
The Museum of the African Diaspora

We celebrated the season and the legacy of Nelson Mandela at MoAD with a range of boutique wines that were chosen by our members tasting panel as the best of our monthly mingles. We included several other wines sampled for the first time The wines were available for purchase at a discount in the museum store to raise some funds for the museum. The exhibit and tasting were free of charge.
From the American Revolutionary War to the civil rights movement through today, forward-thinking Black Americans have consistently aligned their struggle for freedom with the battles of other oppressed peoples, especially those of African descent.
At the turn of the 20th century, Black writers, intellectuals, and artists from around the globe—including Africa, the United States, South America, and the Caribbean—initiated ongoing dialogues that formed the basis for emerging ideologies and nascent movements concerned with helping all people of African descent attain liberation, equality, and self-determination.
This growing solidarity flowered under such banners as anti-colonialism, Pan-Africanism, Négritude, Negrismo, Indigenism, Blackness, anti-imperialism, and Black internationalism, a particularly fitting term for the interconnections of Black freedom struggles across national, continental and oceanic boundaries.
Significant ideological overlap existed among Black artistic and political movements at home in the Americas and abroad. Each one of these iterations emphasized culture as a means for holistic empowerment and invited African people to define culture on their own terms.
Additional Tour: 12:30-1:30/Met up at MoAD wine tasting table in lobby.
Some also toured Unbuilt San Francisco: The View from Futures Past at the California Historical Society just across the street. The exhibit closed on Dec. 29th.
In their galleries, the California Historical Society surveyed three ambitious efforts to reimagine the city of San Francisco and the Bay Area as a metropolitan region—Marincello, Yerba Buena Center, and the Ferry Building—reaching beyond plans and models to depict the political, social, and economic challenges to each. Throughout, architectural drawings, letters, photographs, artworks, videos, and newspaper clippings represent the voices of advocates and detractors. Through these sites, we see the built environment of today as a collected history that is still building.
150 California
Suite 800
San Francisco, CA (map)
Our November taste-off offered 18 different types and brands of wines in two flights selected to pair with the fare of America's unique fall celebration. We included a broad array of wines: white, pink, and red, to go with turkey and ham sliders, plus a variety of cheeses.
Our monthly wine mingles seek to offer occasions for people to socialize over new and different releases. Why nurse a glass of a single varietal or be limited to a flight of three wines at a high-markup wine bar when for the same amount of money you can enjoy and learn about a range of wines while chatting with old and new friends and enjoying some nifty nibbles.
The 'citizen judge' format is based on the premise that those who buy wines for dinner or a special occasion should evaluate current releases not the "gatekeepers" or tastemakers who "curate" wine selections.
We believe that a limited number of wines have an appeal to a cross section of different consumer palates, but less often please the refined tastes of the wine pros. We want to offer attendees the opportunity to decide on their choices and represent the tastes of other consumers.
Each wine received at least 13 votes (some members bypassed the whites), most 18 (some attendees did only one flight, some both).
Wild turkey formed the core dish for what traditionally is known as "The First Thanksgiving"-- the 1621 gathering between the Pilgrims and the Wampanoag at Plymouth Colony. The use of the turkey in the USA for Thanksgiving precedes Lincoln's nationalization of the holiday in 1863. Alexander Hamilton proclaimed that no "Citizen of the United States should refrain from turkey on Thanksgiving Day," and many of the Founding Fathers (particularly Benjamin Franklin) had high regard for the wild turkey as an American icon.
The results (the criterion is tastiness=how yummy is the wine when accompanying turkey or ham):
Winning wines available for sale @ wine.coop
(92-94) SUPERB ~ REMARKABLE Displays intense depth and finesse Double Gold Medal.

Krutz Family Cellars 2011 Zinfandel Magnolia Series Napa Valley (Sweepstakes winner for November/Best of Tasting) $24 winery price $21 Special Members Price
From the website:
Winemakers notes: "Spicy raspberry and brambleberry immediately jump out of the glass as aromatics. Sweet cherry pie is framed nicely by a brushy and savory cedar plank. This is the second time a Zin has been selected as the favorite wine of the month." A great value besides, with the lowest price of the wines tasted....
Vineyards
"We sourced from multiple vineyards throughout Napa Valley for this complex, yet balanced Zinfandel. .
AVA Breakdown 25% Howell Mountain 19% Chiles Valley 19% Napa Valley 17% Atlas Peak 11% Napa Valley North 9% Calistoga ...
"The Magnolia, the state flower and tree of Mississippi, is a symbol of our southern roots and way of life. It's been said, "One can't get to where they are going without knowing where they've been." We at Krutz Family Cellars take pride of where we're from and where we are aiming to go. Some of the virtues and ways of life that were instilled in us growing up in the south are well evident today in our business, our personal life, and our wines. These same virtues and values that we will no doubt work to pass to our children too. Our wines are true, honest, and fun, just as the folks who build them." Read more about the family and the winery here
Two Shepherds Vineyards 2011 Pastoral Rouge Rhone blend North and Central Coast $38. Members price $32 Shipping $7 for any quantity.
From the website:
"Pastoral Rouge is Two Shepherd's flagship blend, replacing the 2010 'GSM.' A hand crafted blend of Grenache, Mourvedre and Syrah, in that order, comprises the 2011 blend. Drinking bright and well as of April, but giving it some more bottle time for the players to increase in harmony. "
"Two Shepherds: Shepherd of the Palate, Shepherd of the Grape"
"Two Shepherds is the genesis of founder William Allen, publisher of the widely read blog, Simple Hedonisms and long time garagiste wine maker, who decided to put his money where his keyboard was by planting a vineyard and starting a micro-wnery. After years of extolling his love of Rhone wines, and winemaking practices of balance and elegance, as well as enthusiastically encouraging consumers to branch out and extend their palates, William decided to expand upon his years of garage wine making and hands on harvest experience to make commercially available the style of wines he was championing. Thus Two Shepherds was born--making wines that "shepherd" grapes gently into non-manipulated and balanced old world style wines, while also guiding consumers back to wines of authenticity, and to the wonderfully diverse realm of Rhone wines." More here
(90-92) DELICIOUS ~ EXCELLENT - A complex, concentrated wine that balances lush fruit qualities with refinement Gold Medal
Pellegini Wine Company 2011 Pinot Noir Russian River Valley $30
Thralls Family Cellars 2012 Pinot Noir Bucher Vineyard Russian River Valley $40
Sheldon 2012 Cabernet Sauvignon D'Alliard Vineyard Sonoma Valley $40
(87-89) HIGHLY RECOMMENDED ~ VERY GOOD Shows special qualities of richness and flavor Silver Medal
Cartograph 201o Pinot Noir Floodgate Vineyard Russian River Valley $40
Krutz Family Cellars 2011 Chardonnay Martinelli Road Vineyard Russian River Valley $40
Krutz Family Cellars 2010 Pinot Noir Akins Vineyard Anderson Valley Mendocino $35
Sheldon 2012 Velocity Grenache Ceja Farms Sonoma Valley $40
(85-87) RECOMMENDED ~ GOOD - A pleasing wine with varietal distinctiveness Bronze Medal
Cartograph 2012 Gewurztraminer Floodgate Vineyard Russian River Valley $24
Cornerstone Cellars 2011 Chardonnay Willamette Valley $40
Cornerstone Cellars 2011 Pinot Noir Willamette Valley $50
Overland 2012 Sauvignon Blanc Kick Ranch Vineyard Sonoma County $21
Sheldon 2012 Weatherly Rose of Graciano Ripkin Vineyard Lodi $22
Stepping Stone by Cornerstone Cellars 2011 Pinot Noir Willamette Valley $30
Thralls Family Cellars 2012 Pinot Noir Russian River Valley $32
Two Shepherds Vineyards 2012 Grenache Blanc Saarloos Vineyard Santa Ynex Valley $25
A Celebration of Grenache
The wines in the order tasted with winery retail prices:
Silver Wines 2009 Grenache Blanc Santa Barbara County $25
Tercero Wines 2011 Grenache Blanc Santa Ynez Valley $22
Epiphany Cellars 2011 Grenache Blanc Santa Barbara County $25
Mathis Wine Co 2008 Rosé de Grenache Sonoma Valley $18
Turkovich Family Wines 2011 Rosé of Grenache Lodi and Yolo Counties $18
Austin Hope 2011 Grenache Estate Paso Robles $42
Mathis Wine Co 2008 Grenache Sonoma Valley $30
Epiphany Cellars 2010 Grenache Santa Barbara County $30
Tercero Wines 2009 Cuvee Loco Grenache blend Larner Vineyard Santa Ynez Valley $30
Core 2008 Elevation Sensation Alta Mesa Vineyards Santa Barbara County $42
Calcareous 2010 Grenache Mourvedre blend Estate Paso Robles $36
Epiphany Cellars 2010 Gypsy Grenache blend Santa Barbara County $25
Core 2008 Grenache Reserve Alta Mesa Vineyards Santa Barbara County $29
Tercero Wines 2009 Grenache Watch Hill Vineyard Santa Ynez Valley $30
Bokish Vineyards 2010 Garnacha terra Alta Vineyard Clements Hills Lodi $18
Turkovich Family Wines 2011 Grenache Lodi and Yolo Counties $24
Harrison Clarke Wines 2010 Grenache Estate Ballard Canyon Vineyard Santa Ynez Valley $27
Tercero Wines 2009 Grenache Larner Vineyard Santa Ynez Valley $30
Lightening Wines 2011 Grenache Kick Ranch Sonoma County $37 (not in taste off-see below)


Favorite wine/Sweepstakes winner of the blind tasting:
(90-92) DELICIOUS ~ EXCELLENT - A complex, concentrated wine that balances lush fruit flavors with refinement Gold Medal


Winery Suggested Retail $27. Special Members price $20. Go to purchase wine page
Handpicked from Harrison Clarke Ballard Canyon Vineyard in the Purisima Hills
in the heart of the Santa Ynez Valley
100% Grenache. Natural fermentation with native yeast
After an extensive cold soak, 80% whole berries were fermented in small open top fermenters. Gentle punch downs and pigeage. Barrel aged for 20 months.
Light -medium body. Delicate aromas of black cherry, strawberry, kirsch liquor, pepper and spice.


(87-89) HIGHLY RECOMMENDED ~ VERY GOOD Displaying special qualities of finesse and flavor -
[listed according to vote totals]
Tercero Larner Vineyard,
Core Elevation Sensation
Calcareous Grenache Mourvedre
Tercero Watch Hill
Best of the chilled wines:
Turkovich Rosé
---
Our added starter, Lightening Wines, brought by the winemaker toward the end, also received a few scores which were very high. It wasn't placed in the taste off
Pictures are posted on the Wine Society and Brainiac meetup websites. http://www.meetup.com/wine-coop-bay-area/photos/17457822/


WE'RE LUCKY TO HAVE COME ACROSS THIS "SPLENDID BLENDED
MADE BY BRAVIUM'S DEREK ROLFFHS



(90-92) DELICIOUS ~ EXCELLENT - A complex, concentrated wine that balances lush fruit flavors with refinement Gold Medal

LUCKY III
Lucky III has a vibrant, dark red hue and aromas of cherry, mocha, leather and vanilla, with spice notes. This Napa Valley wine's entry is powerful and expansive with flavors of dark cherry, chocolate, and berry fruit that persist on the lengthy, smooth and complex finish. Lucky is approachable now and drinks great on its own and with a wide range of foods especially BBQ, pizza, Italian food, and all meat dishes.
Very dark red color with dark fruit and oak spice aromas. Red and black fruit dominate this full-bodied wine. With a rich mouthfeel featuring high fruit concentration, Lucky's delicious finish goes on and on.
49% Merlot, 23% Cabernet Sauvignon, 21% Zinfandel, 7% Petite Sirah. California Appellation.
Sales of all Bravium and Artisan wines support Sip&Give, the charitable giving campaign that Derek created. Sip&Give features a variety of worthy charities that are funded based upon your wine purchases and votes at sipandgive.com.
| | | | | |
| --- | --- | --- | --- | --- |
| | | | | |
| Monthly Wine Mingle & Taste Off | | | | |
| August 23, 2013 Schlesinger Associates SF | | | | |
| See scoring categories on the side | ballots | Average | Ranking | |
| | | score | points | |
| FLIGHT A | | | | |
| | | | | |
| A1 Frog's Tooth Winery 2010 Fumé Blanc Estate Calavares County $18 | 13 | 3.5/5 | 6 | VG |
| A2 Larson Family Winery 2010 Chardonnay Estate Sonoma Valley $30 | 16 | 3.75 | 14 | VG/E |
| A3 Cuvee Wine Cellars 2011 Pinot Noir Saralee's Vineyard Russian River Valley $28 | 14 | 3.1 | | G |
| A4 Lava Cap Winery 2010 Barbara Estate El Dorado County $25 | 16 | 3.31 | 8 | G./VG |
| A5 Pietra Santa 2009 Sangiovese Estate Cienaga Valley $18 | 16 | 3.25 | | G/VG |
| A6 Shed Horn Cellars 2010 Cabernet Sauvignon Lake County $29 | 15 | 3.6 | 4 | VG |
| A7 Gold Hill 2009 Cabernet Franc Estate El Dorado $26 | 15 | 3.89 | 9 | VG/E |
| A8 Calstar 2008 Zinfandel Alta Zin Cardanini Vineyard El Dorado County $25 | 16 | 3.78 | 9 | VG/E |
| A9 Pietra Santa 2009 Zinfandel Estate Cienaga Valley $18 | 17 | 3.76 | 6 | VG/E |
| | | | | |
| FLIGHT B | | | | |
| | | | | |
| B1 White Wedding Winery White Wedding II Proprietary White Wine California $18 | 18 | 3.58 | 5 | VG |
| B2 Bravium 2011 Pinot Noir Signal Ridge Vineyard Mendocino Ridge $34 | 17 | 3.65 | 13 | VG |
| B3 Frog's Tooth Winery 2009 Meritage Sierra Foothills $28 | 15 | 3.40 | 4 | G/VG |
| B4 Pietra Santa 2009 Merlot Estate Cienaga Valley $18 | 16 | 3.58 | 8 | VG |
| B5 Cairdean Vineyards 2010 Merlot Napa Valley $42 | 15 | 3.67 | 6 | VG |
| B6 Pietra Santa Winery Signature Collection 2005 Vache Estate Merlot $45 ($28 members price) | 15 | 3.80 | 8 | VG/E |
| B7 Lucky Winery N/V Lucky III Proprietary Red Wine Napa Valley $21 | 17 | 4.05 | 20 | E |
| B8 Noceto 2010 Barbara Linsteadt Vineyard Shenandoah Valley $28 | 17 | 3.75 | 13 | VG/E |
Each month we offer 16 hard-to-find, boutique wines from different viticultural areas in California which are under consideration by the members for our
wine.coop
group buying cooperative.
This month's group selected two proprietary red blends as their top choices which are available for the low price of $15 and $25 . Several members have already purchased a case. Go to the Purchase Wine page of wine.coop site to learn more
.
The 'citizen judge' format is based on the premise that those who buy wines for dinner or a special occasion should evaluate current releases not the "gatekeepers" who "curate" wine selections. We also eschew the 100 pt. system as unnaturally precise in favor of a 5 star with half stars approach (see our blogwhich lays out our taste off methodology)
And we always arrange to secure venues close to BART and affordable parking. Pam Lintner has again agreed to host our tasting panel in her office at thEbottom of California St.
The wines were paired with some tasty nibbles. Plus we raffled off some special wines.
Our unique approach is based on the premise that a limited number of wines have an appeal to a broad range of different palates which rarely please the refined tastes of the wine pros. We want to offer attendees the opportunity to decide on their choices and represent the tastes of other consumers.
The top wines for July:
(87-89) HIGHLY RECOMMENDED ~ VERY GOOD Displaying special qualities of finesse and flavor
Tied for high scorer but awarded solo 1st place due to its low price.
Stein Family Wines 2010 Just Joshin Red Blend California

Suggested Retail $20. Special Members Price: $15. $5 shipping fee. 3 bottle minimum. Go to wine.coop to purchase.
Tied for 1st place on points
Casey Flat Ranch CFR Estate Red Blend Capay Valley
Suggested retail: $40 Special Members Price :$25 plus shipping . Must have code.
3rd place (tie)
Manzoni Vineyards 2012 Pinot Gris Franscioni Vineyard Santa Lucia Highlands $26
Victor Hill 2010 Viognier Los Carneros $26 (based on higher ranking)
(85-87) LIKE IT~ GOOD -
A pleasing wine with varietal distinctiveness
Breathless Wines Brut de Noirs Methode Champenoise Sonoma County $30
Breathless Wines Brut Rosé Methode Champenoise North Coast $32
Stein Family Wines 2010 Same Sex Meritage Red Blend California $25
Orsianna 2007 Cabernet Sauvignon Mendocino County $20
Darms Lane Winery 2010 Chardonnay Oak Knoll Napa Valley $28
Pali Wine Co. 2012 Charm Access Chardonny Sonoma Coast $21
Spreadsheet (rank: consumer tasting panel was asked to pick 1st, 2nd & 3rd favorite wines)
| | | | | | |
| --- | --- | --- | --- | --- | --- |
| WINES IN ORDER TASTED | number of ballots | rating average deleting 1 and 1.5 scores | rating incl. 1 & 1.5 scores | rank score total | Average ranking score per ballot |
| FLIGHT A | | | | | |
| 1.Breathless Wines Brut de Noirs Methode Champenoise Sonoma County $30 | 13 | 3.42 | 3.42 | 8 | 0.61 |
| 2.Manzoni Vineyards 2012 Pinot Gris Franscioni Vineyard Santa Lucia Highlands $26 | 12 | 3.59 | 3.59 | 8 | 0.67 |
| 3.Pali Wine Co. 2012 Charm Access Chardonny Sonoma Coast $21 | 14 | 3.18 | 3.1 | 4 | 0.28 |
| 4.Victor Hill 2010 Viognier Los Carneros $20 | 16 | 3.4 | 3.17 | 14 | 0.88 |
| 5.Orsianna 2007 Cabernet Sauvignon Mendocino County $20 | 14 | 3.32 | 3.1 | 8 | 0.57 |
| 6.Stein Family Wines 2010 Same Sex Meritage Red Blend California $25 | 15 | 3.17 | 3.1 | 4 | 0.26 |
| 7.Stein Family Wines 2010 Just Joshin Red Blend California $20 | 18 | 3.63 | 3.62 | 18 | 1 |
| 8.Casey Flat Ranch CFR Estate Red Blend Capay Valley $35 | 15 | 3.8 | 3.59 | 17 | 1.1 |
| | | | | | |
| FLIGHT B | | | | | |
| 9.Breathless Wines Brut Rosé Methode Champenoise North Coast $32 | 18 | 3.36 | 3.36 | 10 | 0.55 |
| 10.Windsor Oaks 2010 Sauvignon Blanc Russian River Valley $29 | 17 | 3.32 | 3.13 | 13 | 0.72 |
| 11.Manzoni Vineyards 2011 Chardonnay Santa Lucia Highlands $30 | 14 | 2.89 | 2.55 | 6 | 0.43 |
| 12.Darms Lane Winery 2010 Chardonnay Oak Knoll Napa Valley $28 | 17 | 3.14 | 3.03 | 11 | 0.65 |
| 13.Manzoni Vineyard 2011 Pinot Noir Home Vineyard Santa Lucia Highlands $35 | 16 | 3 | 2.81 | 6 | 0.38 |
| 14.Victor Hill 2010 Cinsault Donohue Vineyards Sonoma Valley $20 | 16 | 2.9 | 2.72 | 6 | 0.38 |
| 15.Casey Flat Ranch 2009 Open Range Red Blend California $18 | 11 | 2.95 | 2.35 | 2 | 0.18 |
| 16.Stein Family Wines Arleyna Red Blend Napa Valley $59 | 16 | 3.33 | 2.89 | 10 | 0.62 |
| Ranking: 1st=3 pts, 2nd=2pts, 3rd=1pt | | | | | |